POLYCHROM chips are regular chips with no inserts or decals, they are fully customizable in full-color graphics on both faces and the edge using state of the art sublimation printing techniques. Various sizes are available, as well as a choice of either a texture or smooth surface finish on the faces and have Sun-Fly's unique high gloss rolling edge. All chip products are made with casino-grade materials and can be customized with multiple security features.
The PolyChrom chips are fully customizable on both faces and the rolling edge, as well as different combinations of security features. Here are some essentials that needs to be considered before you place a custom order with SUN-FLY.
Various shapes & sizes are available to POLYCHROM chips and plaques to fulfill customers' needs. SUN-FLY also undertakes orders for custom shape or size if current available models don't meet your requirements. Please speak with our sales representative to explore more possibilities.
ROUND CHIP SIZE
---
Code#: RB001, Surface:Textured, Diameter: 39mm, Thickness: 3.3mm, Weight: 9.5g Code#: RB002, Surface:Smooth, Diameter: 39mm, Thickness: 3.3mm, Weight: 9.5g Code#: RB003, Surface:Textured, Diameter: 43mm, Thickness: 3.3mm, Weight: 11.3g Code#: RB004, Surface:Smooth, Diameter: 43mm, Thickness: 3.3mm, Weight: 11.5g Code#: RB009, Surface:Smooth, Diameter: 44mm, Thickness: 3.3mm, Weight: 13g Code#: RB005, Surface:Smooth, Diameter: 47mm, Thickness: 3.3mm, Weight: 13.2g Code#: RB006, Surface:Smooth, Diameter: 44mm, Thickness: 3.3mm, Weight: 12.5g
---
RECTANGLE PLAQUE SIZE
---
Code#: RB011, shape: Rectangular Plaque, Diameter: 48x68mm, Thickness: 5mm, Weight: 38g Code#: RB012, shape: Rectangular Plaque, Diameter: 57x82mm, Thickness: 5mm, Weight: 52.5g Code#: RB013, shape: Rectangular Plaque, Diameter: 66x94mm, Thickness: 5mm, Weight: 65g Code#: RB014, shape: Rectangular Plaque, Diameter: 75x107mm, Thickness: 5mm, Weight: 92g Code#: RB015, shape: Credit Card Size Plaque, Diameter: 85x53mm, Thickness: 3.5mm, Weight: 33.5g All PolyChrom plaques are finished with smooth surface.
---
OVAL PLAQUE SIZE
---
Code#: RB016, Diameter: 48x68mm, Thickness: 5mm, Weight: 28.5g Code#: RB017, Diameter: 57x82mm, Thickness: 5mm, Weight: 46g Code#: RB018, Diameter: 66x94mm, Thickness: 5mm, Weight: 55g Code#: RB019, Diameter: 75x107mm, Thickness: 5mm, Weight: 81g
---
DB' CHIPS SIZE
---
Code#: RB007, Diameter: 49mm, Thickness: 5.5mm, Weight: 24g Code#: RB008, Diameter: 60mm, Thickness: 5.5mm, Weight: 38.5g All PolyChrom DB's are finished with smooth Surface.
---
---
Alignment option includes FACE ALIGNMENT and EDGE ALIGNMENT which increase the appearance quality of a chip. Face alignment features images on both sides of a chip/plaque towards the same direction. Edge alignment is when a patten, color stripes or edge spots on the face of the chips extend down to line up with the rolling edge.
- Lack of Education
---
According to the Brookings Institute Center for Universal Education of the nearly 128 million school-aged children, 17 million will never attend school. Another 37 million African children will learn so little while they are in school that they will not be much better off than those kids who never attend school. The Report goes on to say, "Under the current model, half of sub-Saharan Africa's total primary school population – 61 million children – will reach adolescence without the basic skills needed to lead successful and productive lives." Africa's future economic growth and social development depends upon major systemic change. Globally, according to statistics from USAid, more than 67 million primary school-aged children are not in school, and 40 million of them live in countries affected by armed conflict. The relationship between poverty, lack of educational attainment, and violent conflict are substantiated. We believe sports is the differentiated factor in giving the youth an opportunity to channel their energy into something productive. Sports has an incredible power to bring people together, at Be Own Sports Foundation we are using it to empower the youth to BE Somebody and OWN their future.
---
- Social Isolation and Stigma Experienced by Children with Disabilities
---
Like all children, those with disabilities have many abilities but are often excluded from society by discrimination and lack of support, leaving them among the most invisible and vulnerable children in the world. According to Unicef's 2013 Report, children living in poverty are among the least likely to enjoy the benefits of education and health care, for example, but children who live in poverty and have a disability are even less likely to attend the local school or clinic. The Report goes on to say that, in many countries, responses to the situation of children with disabilities are largely limited to institutionalization, abandonment or neglect. Our aim is simple; create opportunities with sport by building programs and playgrounds that can accommodate kids with disabilities. Furthermore, educate kids without disabilities that it is not ok to treat someone with a disability with no respect.
---
- Hopelessness
---
Poverty and inequality engender hopelessness, helplessness, and misery, and they tear at the social fabric of families and communities. According to the Brookings Institute, a wide body of research confirms having hope correlates with a brighter future. When people BELIEVE their lives are going to go nowhere, they are less likely to invest in their health and education. Hope has its roots in genetics and personal experience and is heavily influenced by culture. Evident in Carol Graham's research out of the Brookings Institute, if the existing belief structure suggests that hard work and individual effort will get you ahead, you are more likely to be hopeful. A belief in a better future typically correlates with better performance in the labor market, higher income, and improved health. The difference has a great deal to do with one's sense of agency, purposefulness, and goals. Too many youths in Africa and in other impoverished areas around the world do not know or believe in their own capability, nor do they see examples of others rising out of poverty. The single reason why we as an organization came up with what we call "THE Be Own Sports PLEDGE CARD" is because we wanted to leave a powerful gift of knowledge and empowerment that kids read and know that we are here with them because they are worth it. We just believe every kid in the world deserves that.
---
- Water Accessibility Through Sport
---
Be Own Sports Foundation encourages kids to play safe and stay hydrated while promoting sports at the grassroots of Africa for sustainable development. We strive to avail water to marginalized and calamity-struck areas. Part of our mission is to develop strategic partnerships to build sports court in impoverished communities, and generate sponsors funds to drill water wells and encouraging families for a better community. Water is the one natural resource that everyone need and millions of kids are either not getting enough or not getting any at all. Be Own Sports we strive to do better one day at the time to make sure at each of our camps, events, and facilities kids are provided with clean safe drinking water.
---
- Sports Equipment and Facilities
---
Through the collective effort of our staff, volunteers, coaches, parents, partners and sponsors, we can provide safe facilities to nurture the creativity and well being of the children. Sports has the power to bridge the gap between socioeconomic classes and bring people from all walks of life together to celebrate a moment in time such as tennis, basketball, soccer game and many more. By providing the proper equipment and training facilities, Be Own Sports Foundation is working to change the game and be the beacon of hope for these young athletes looking for opportunities in the sports industry.
---
- Nutrition Education and Accessibility
---
We work very hard to develop our programs and partnership with leading nutritional partners to promote sports for education and health awareness. We are mindful to the fact that water and proper nutrition is the key to unlocking kid full potential in sports and education. Providing access to a balanced diet for the kids is vital to their health, not to mention their performance in the classroom.
---
- Showcasing The Youth
---
Once a year, as a part of our Be Own Sports Foundation model, we plan to organize a showcase to reward our youth for their effort throughout the year. As we continue to welcome, discover, nurture and give back these talented youth to the sport's world and business. This is an opportunity to acknowledge our kids for their hard work, resilience, and determination, which have been going unseen for many years. Recognition drives the world we live in and this is our way to recognize our kids and show them that they too are special!
---
---
The complexity of making a high-quality ceramic chip makes counterfeiting Sun-Fly products extremely difficult, and the combination of different security features has made it almost impossible to successfully counterfeit.
UV SECURITY
---
Both faces & the rolling edge of a chip can be printed with UV inks which is invisible to human's naked eye while visible under UV lamp. The code or image that is used for the UV print is customizable, so can be unique to each client, which again reduces the chances of counterfeiting. Additionally, the MOQ of custom making UV security chips is as low as 300pcs, multiple UV marking position on one chip is acceptable without needing any extra charge.
---
I/R INTEGRATION (LASER TRACER)
---
I/R refers to infra-red, it is a kind of anti-counterfeiting technology that applies I/R sensitive material mixing into the chip material which can appear a 'green dot' while activated by laser.
---
SERIAL CODING
---
Serial coding features a deeper level of anti-counterfeiting protection that allows you have different coding# on every single chip of your order.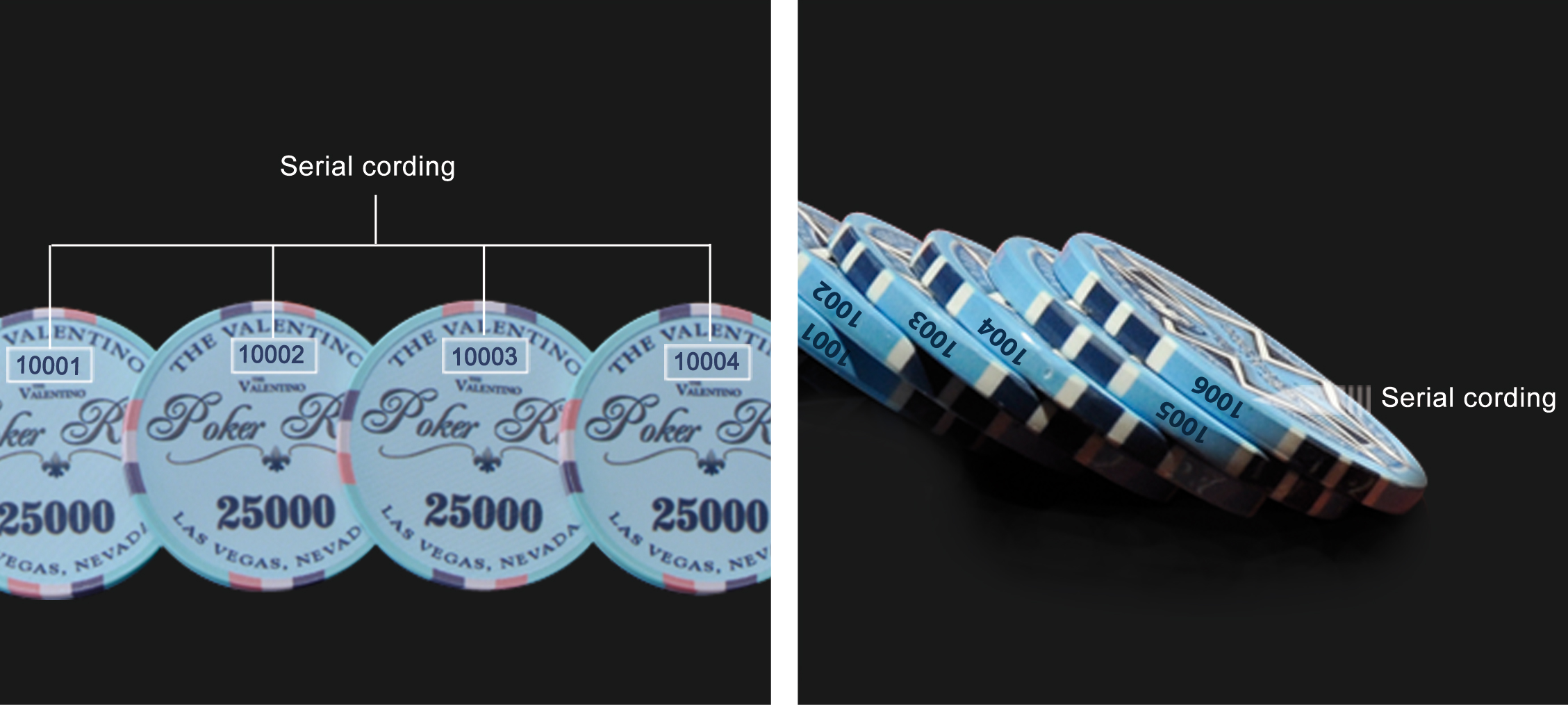 ---
---
The listed artwork designs are inspiration references, SUN-FLY owns the copyright of all listed design templates and you are free to use any of them with your orders with us. SUN-FLY also provides design service by our experienced in-house graphic designers.